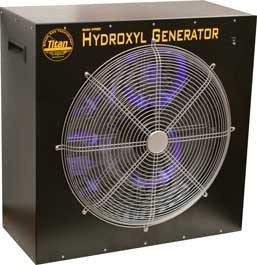 ---

We have called A Clean Pro for a few years now and today we had our carpets cleaned by them again and they once again did not disappoint us. Â Rolando was our technician and could not have been more professional, friendly or thorough in cleaning our carpets and in a very time efficient manner. Â He lived up to the mission statement of A Clean Pro..."To Provide the Most Outstanding Service Experience Ever!" Â I'm sitting back now and loving the clean and crisp look and smell of our freshly cleaned carpets. Â I'll be calling A Clean Pro for our next carpet cleaning and HIGHLY recommend this business.

Air Purification/Odor Control
A Clean Pro is proud to announce their NEW Air Purification/Deodorization Service. The Titan 4000 is the largest Air Purification and Deodorization system that produces no ozone and is 100% safe. Not only does it eliminate odors, but it is also 94% effective in filtering the air.

Common uses for our Air Purification system are: Pet/Urine Odor, Cigarette Smoke, Fire Damage, etc. This system is extremely effective and ideal for ANY unwanted odor in your Home, RV or Business.

This Air Purification will REMOVE ODORS, KILL GERMS and CLEAN THE AIR!
---