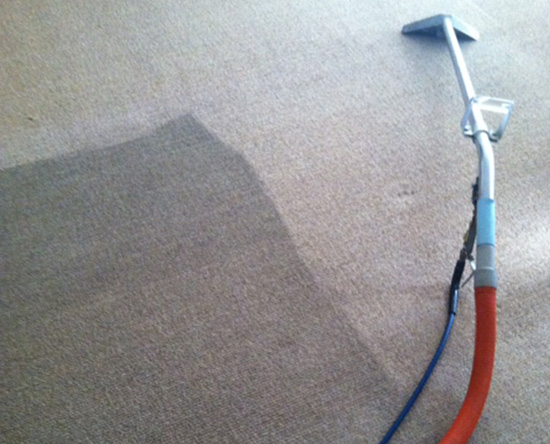 ---

Stuart from A Clean Pro was very professional and courteous. I saw they didn't have a lot of Yelp reviews but from the website that they had been in business for a long time (1988). Since Yelp reviews can easily be faked, I figured longevity was a good sign, as well as their commitment to being knowledgeable about carpet cleaning. I was working on a tight schedule and called late afternoon needing the carpet cleaning the next day. Stuart was very helpful and said no problem. Later he called back to see if we could reschedule to earlier in the morning, but assured me they would be able to get someone out to the house to clean at the original appointment.My folks thought they would clean the carpet themselves with one of those carpet cleaners you rent, but the carpets were so old. The technician who came out told them there was a lot of dirt under the carpet, that the fibres were very long, and at best the carpet would last another 4 years. Hope to replace the carpet long before then, but we appreciated the educated assessment of the carpets. Afterwards, my folks said the house felt very clean and were very  happy with the results.Appreciated their availability, courteousness and quality work. Highly recommend.

Carpet Cleaning - Apple Valley
While carpet is a top flooring choice with many Apple Valley residents, it comes with a unique set of challenges. Unlike tile and hardwood floors, carpets are particularly prone to spills and other significant issues. Over time, your carpet will collect dirt, stains, and odors – it's critical to use a professional carpet cleaning service to eliminate any problems. Most carpet mills require that the carpet be professionally cleaned for warranty purposes.

At A Clean Pro, our goal is to help Apple Valley residents access the best carpet cleaning services in the region. There isn't a carpet problem that we can't address!


Do I Need Professional Carpet Cleaning in Apple Valley?
If you've got a serious carpet problem, it's time to call the professionals. Take a look at typical issues our carpet cleaning experts can solve:

• Serious stains – red wine, juice, and other liquids
• Heavily soiled traffic areas
• A sticky texture from spills
• Odors – cat urine, cigarettes, and a host of other problems
• Just plain old soil buildup
• Bacteria that can develop in the carpet
• We will step up to ant challenge that we are given to solve


Apple Valley's Best Carpet Cleaning Service
Many homeowners make the same mistake – they think that they can remove stains, odors, and other issues from their carpet without a professional carpet cleaning service. Unfortunately, carpet problems are extremely hard to solve without access to professional equipment. We use innovative cleaning technology to eliminate the root cause of any carpet issue.

At A Clean Pro, we employ a comprehensive approach to cleaning our clients' carpet. Before we clean your carpet, we'll provide a full-service inspection that identifies the core issue behind any carpet stain, odor, or texture problem. We'll then use our industry-leading methods to eliminate the root cause of the issue.


Is 'A Clean Pro' the Best Carpet Cleaning Company in Apple Valley?
There's no doubt that we're the top carpet cleaning company in Apple Valley. Below, let's explore what makes our company a clear favorite in the region:

• Voted 1st place in the "Best of the Desert" every year since 2013!
• We have the most comprehensive approach to carpet cleaning in the region.
• We can solve stains, odors, texture problems, and more.
• We'll attack the root cause of any carpet issues.
• We have insurance for all of our carpet cleaning services.
• We never charge our Apple Valley clients for carpet cleaning quotes.
• We use the industry's most advanced technology to clean your carpets.
• We never use harmful chemicals or cleaning products.


Free Carpet Cleaning Quotes for All Apple Valley Residents
We offer the top carpet cleaning services in Apple Valley and we never charge our customers for quotes. If you're looking for a no-obligation estimate for our carpet cleaning services, contact our office to speak to our carpet specialists. We're also happy to provide verified testimonials from other Apple Valley clients!
---