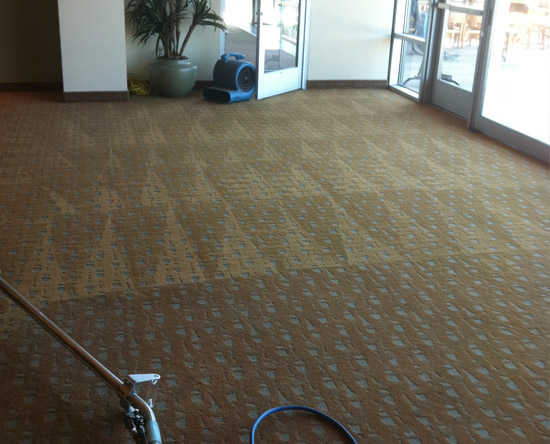 ---

Stuart from A Clean Pro was very professional and courteous. I saw they didn't have a lot of Yelp reviews but from the website that they had been in business for a long time (1988). Since Yelp reviews can easily be faked, I figured longevity was a good sign, as well as their commitment to being knowledgeable about carpet cleaning. I was working on a tight schedule and called late afternoon needing the carpet cleaning the next day. Stuart was very helpful and said no problem. Later he called back to see if we could reschedule to earlier in the morning, but assured me they would be able to get someone out to the house to clean at the original appointment.My folks thought they would clean the carpet themselves with one of those carpet cleaners you rent, but the carpets were so old. The technician who came out told them there was a lot of dirt under the carpet, that the fibres were very long, and at best the carpet would last another 4 years. Hope to replace the carpet long before then, but we appreciated the educated assessment of the carpets. Afterwards, my folks said the house felt very clean and were very  happy with the results.Appreciated their availability, courteousness and quality work. Highly recommend.

Commercial Carpet Cleaning - Hesperia
If you own or manage a commercial property with carpet, it's essential to partner with an experienced carpet cleaning service. Our 12-step approach to carpet cleaning ensures we leave no problem unresolved. If you're ready to partner with the best commercial carpet cleaning company in Hesperia, it's time to call A Clean Pro!


The Best Commercial Carpet Cleaning Company in Hesperia
At A Clean Pro, we use advanced carpet cleaning technology to eliminate stains, odors, and other issues from commercial carpets. Unlike other carpet cleaning services, we can clean large commercial carpets exceptionally quickly. We only use cleaning products that are safe for you or your tenants.


Commercial Carpet Cleaning for New Tenants in Hesperia
If you're handing your commercial property over to new tenants, it's critical to ensure the carpets are in top condition. If you need a commercial carpet cleaning company that can handle large-scale cleaning, it's time to get in touch with A Clean Pro. We'll ensure your property looks great before your tenants move in!


Emergency Commercial Carpet Cleaning Service in Hesperia
Spills and other mishaps can happen at the most inopportune times. If you have an upcoming event and you need emergency commercial carpet cleaning in Hesperia, our team at A Clean Pro can help. We offer immediate carpet cleaning services—you don't need to wait to remove unwanted stains from your office or industrial building.


Choose 'A Clean Pro' for Hesperia Commercial Carpet Cleaning
If you're ready to find a commercial carpet cleaning company in Hesperia, it's important to choose the region's best company. At A Clean Pro, we've developed a reputation as the region's most capable commercial carpet cleaning firm. Below, check out what makes our company such an excellent partner for commercial property owners in Hesperia:

• Voted 1st place in the "Best of the Desert" every year since 2013!


Contact Us for Free Hesperia Commercial Carpet Cleaning Quotes
If you're a commercial property owner or manager looking for a free carpet cleaning quote in Hesperia, you're in luck—we offer no-obligation quotes to all potential clients in Hesperia. If you'd like to discuss how A Clean Pro can help you keep your commercial property's carpet in top condition, it's time to contact our office. We're happy to provide verified testimonials from other commercial property owners in Hesperia!
---