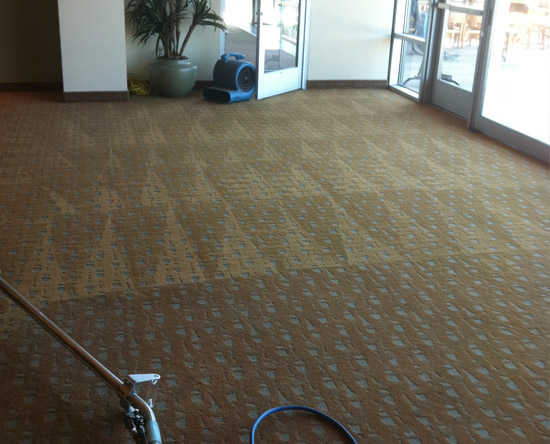 ---

This company was recommended by someone on my local Facebook page. Â When I called for an estimate Megan was very helpful, courteous and professional. She answered all my questions and an appointment was scheduled within 2 days.The technician, Jesus, called when he was on his way and arrived promptly. Â We went through the house and I pointed out that I have three cats and there were some stains and odor issues on a pretty old and dirty carpet. Â I told him I did not expect miracles, just to clean as best he could. Â The estimate I received included treating the cat issues with an enzyme and cleaning 4 rooms and two hallways. Â I was happy with the quote given and the carpet ended up looking like new! Â Will definitely recommend A Clean Pro!

Commercial Carpet Cleaning - Victorville
For commercial property owners and managers, your building's carpet is one of its most frequently used components. Over time, your carpet will naturally accumulate dirt, grime, dust, stains, and other buildups. At A Clean Pro, we help commercial property owners and managers access affordable carpet cleaning services in Victorville.

At A Clean Pro, our team can remove tough stains and odors from any commercial carpet in Victorville. Give our office a call if you need help cleaning your building's carpet!


The Top Commercial Carpet Cleaning Service in Victorville
At A Clean Pro, our access to industry-leading carpet cleaning technology ensures we can remove any stain, odor, or buildup. We employ a 12-step approach for cleaning commercial carpet. We also offer a commercial very low moisture cleaning method. There isn't an issue that we can't handle. Our ability to clean large floor spaces in a short amount of time makes us the perfect partner for commercial carpet cleaning in Victorville.


Commercial Carpet Cleaning for Property Handovers in Victorville
If you're a commercial property owner or manager, there will come a time where you must hand your property over to a new tenant. Even if your previous tenants have left behind dirt, stains, and other carpet problems, our cleaning services ensure your property looks sparkling clean before your next tenants arrive.


Emergency Commercial Carpet Cleaning in Victorville
We work with commercial property owners to offer immediate carpet cleaning services in emergency situations. If you have an upcoming event or you can't wait to clean up a major spill, it's time to call our team at A Clean Pro. One of our technicians will travel to your commercial property to assess the damage and remedy the issue.


A Clean Pro: The Best Choice for Victorville Carpet Cleaning
You can't trust an ordinary carpet cleaning company with your commercial carpets—it's critical to choose the best service in Victorville! At A Clean Pro, we offer industry-leading services to all our commercial customers. Check out the features that make us the top choice in the region:

• Voted 1st place in the "Best of the Desert" every year since 2013!
• Fully insured including general liability, workers comp, commercial auto and we are bonded


Call Us for Victorville Commercial Carpet Cleaning Quotes
---