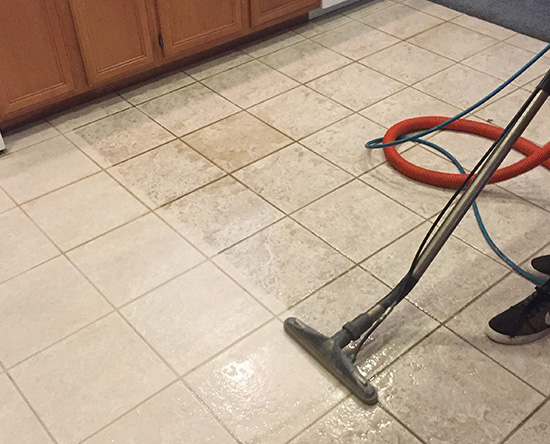 ---
Called ACleanPro on Monday and the technicians were out Wednesday morning at the scheduled time. The techs were courteous, uniformed, and introduced themselves. AClean did a fantastic job. As they cleaned I could tell the difference between the dirty carpet and the clean. My couch looks as good as when we bought it. A company that pays attention to detail by providing booties to the customer is worthy of my repeat business. Thank You AClean!

Francisco Delacruz
5/08/2019
Tile & Grout Cleaning - Apple Valley
While it's easy to clean water and other fresh liquids off the surface of your tiles, there are other problems that require professional tile cleaning. Over the years, you'll notice dirt, dust, grime, and other particles will begin to impact the aesthetic appearance of your tile floors. At A Clean Pro, we offer full-service tile and grout cleaning that can help you restore the appearance and condition of the tile and grout in your home.

As the most trusted tile and grout cleaning service in Apple Valley, A Clean Pro is a clear choice if you need a cleaning expert. Give us a call if you're ready for your tile and grout to look great again!


Benefits of Apple Valley Tile Cleaning
If you're weighing the pros and cons of accessing professional tile cleaning in Apple Valley, it's important to understand the benefits of using highly-skilled tile and grout cleaners. Below, let's take a look at the advantages of cleaning your tile and grout:

• Remove long-term stains and discolorations
• Eliminate dirt, dust, grime, mud, and other buildups
• Kill some harmful bacteria
• Restore your tiles to their former condition
• Improve the lifespan of your grout and tiles
• Maintain the value of your home


8-Step Tile Cleaning in Apple Valley
Don't trust home remedies for dirty tile and grout—it takes a professional to identify underlying issues and provide permanent solutions. At A Clean Pro, we take the process of cleaning your tile and grout extremely seriously. We provide a full-service inspection before we begin cleaning.

Once we remove the dirt, grime, mold, and other buildups from your grout, we'll reseal it to prevent future issues. Our goal is to provide long-term benefits to our clients in Apple Valley.


Choose A Clean Pro: Apple Valley's Best Tile Cleaning Company
If you're ready to choose a professional tile and grout cleaning company in Apple Valley, it's essential to choose the best option. At A Clean Pro, we pride ourselves on being the region's most trusted tile cleaning service. If you're ready to see why we're loved by so many local residents, check out the features below:

• Voted 1st place in the "Best of the Desert" every year since 2013!


No-Obligation Tile Cleaning Quotes in Apple Valley
If you want more information about our tile cleaning services throughout Apple Valley, don't hesitate to contact our office. We offer obligation-free quotes at no cost to all potential clients in the region. If you're ready to access the industry's top tile cleaning services, it's time to call A Clean Pro!
---