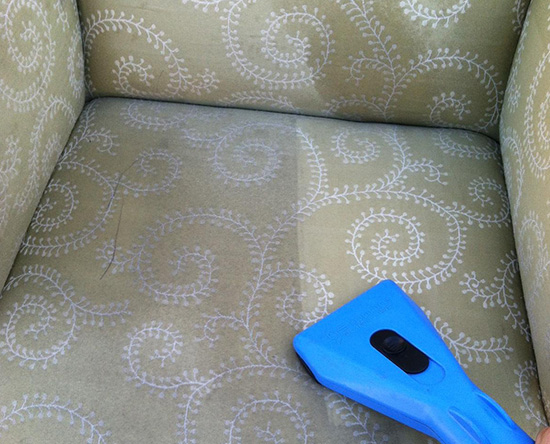 ---

It is a pleasure to review A Clean Pro. They  offer everything my husband and I value beginning with the very first phone call. Customer service is 100% from beginning to end. The technicians call within half an hour of arrival and are always prompt. Reynaldo, our last technician, was a true professional, friendly, dressed in a company shirt and wearing clean shoes. Because of his demeanor it was easy to have him working around the house. I so appreciate the set up too. The hoses are clean and all corners are protected from rub marks. Within a few days of our job, we received a call from Joy, making sure we were satisfied with their services. All this explains why we are repeat customers and never hesitate to refer A Clean Pro to our family and friends.

Upholstery Cleaning - Hesperia
Due to constant use, your home's upholstery will eventually collect dirt, grime, and other unpleasant particles. In some cases, residential upholstery also accumulates mold and bacteria. While home remedies can provide short-term cleaning for your furniture and other household upholstery items, you'll need a professional upholstery cleaning company if you want to remove spots and stains and other problems.

At A Clean Pro, we help Hesperia residents access the benefits of professional upholstery cleaning services. If you're looking for a qualified team of upholstery cleaning specialists, contact our office today!


Full-Service Upholstery Cleaning in Hesperia
At A Clean Pro, we offer full-service upholstery cleaning to our clients in Hesperia. If you have tough issues such as stains, spots or other buildup on your upholstery, our team at A Clean Pro can help!

We use a multi-stage process to clean upholstery in Hesperia. We start all our services by undertaking a full inspection of your upholstery – we'll then develop a custom strategy for eliminating long-term stains. In most cases, we use a 12-step process to clean your home's upholstery.

Our expert approach to cleaning agitates underlying fibers, extracts stains and dirt and dries the fabric in your upholstery. It's the perfect way to attack any underlying issues in your furniture, pillows, rugs, etc.

All our expert technicians are fully trained in the most advanced methods in the industry. We're firmly committed to training the top upholstery cleaning experts in Hesperia. We're also members of the IICRC.


Choose A Clean Pro for Upholstery Cleaning in Hesperia
If you're going to use the services of a professional upholstery cleaning company, it's critical to choose the right firm. At A Clean Pro, we pride ourselves on being Hesperia's most trusted upholstery cleaning experts. Let's explore what makes our company so special:

• There isn't a type of upholstery that we can't clean.
• We tackle the underlying problems in your upholstery.
• We can remove stubborn stains.
• Our 12-step approach eliminates all upholstery issues.
• We offer no-obligation quotes.
• Our cleaning products are safe.
• We're IICRC members.


Contact Our Office for a Free Hesperia Upholstery Cleaning Quote
We believe the best contractors in Hesperia should never charge for quotes. At A Clean Pro, we're firmly committed to offering no-obligation estimates to all potential upholstery cleaning clients in Hesperia. If you'd like more information about our cleaning methods and results, get in touch with our office today!
---